Glock Gen4s get a lot of flack for using a captive dual-recoil spring.
Ironically, Gen3s used them also but they were limited to their subcompact line: 26/27/etc. and also the much larger (although still called sub-compact) 29/30, etc. Other companies have quietly adopted them too, including S&W. I wonder how long until other companies adopt them for their full size pistols?
Now there have been some problems with the Gen4s dual-springs when used in the full-size pistols. It appears it has more to do with trying to use the same spring for multiple calibers. Something that Glock is famous for - instead of another part they slightly vary the mass/weight of their slides and use the same Recoil Spring Assembly (I will use Glock's acronym "RSA" here out).
The fix? A new recoil spring. According to Glock this was to reduce perceived/transmitted recoil to the shooter but also to reduce "battering" to their pistols. During their Armorer's course they specifically listed the 40 S&W as hard on pistols. They didn't say it but they implied that law enforcement guns had to be replaced/rebuilt mroe frequently than they would like.
You may have seen me refer to this captive system as the SeeCamp recoil system. SeeCamp was a pioneer in sub-compact pistols. They built a pistol and the dual-recoil system that actually works. I have attached their patent 4201113 from 1980. LINK to PDF: US4201113. Unfortunately, I couldn't find any actual pics.
The Glock 26 RSA from http://www.southernoutdoorlife.com/mouseguns/glockall/stripped.jpg:

But Glock isn't the only one. Let's take a look at a few others in no particular order...
Colt Defender from: http://i218.photobucket.com/albums/cc177/DoubleAction77/Defender/000_0005.jpg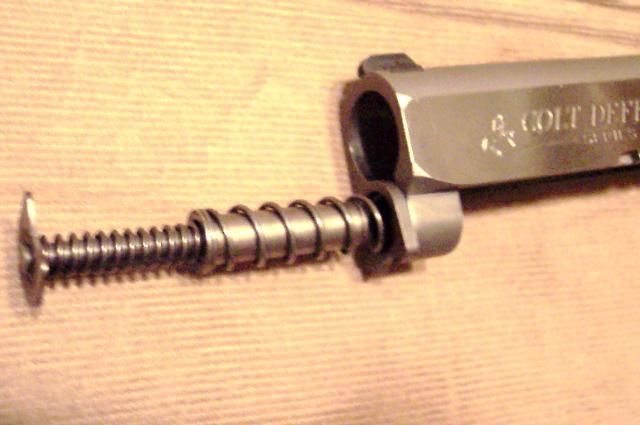 Kimber (Aeigis, CDP, etc): http://i71.photobucket.com/albums/i160/thegerk/Colt%20Automatics/Colt3inchDefenderRecoilsAssemblytopKimber3inchRecoilAssemblybottom.jpg

STI: http://i69.photobucket.com/albums/i64/tideclean/DSC00842.jpg

S&W 659: http://i814.photobucket.com/albums/zz62/prsabordo/smith%20and%20wesson/102_6394.jpg

Rohrbough: http://gunsgunsguns.net/wp-content/uploads/2010/07/4-Rohrbaugh-disassembled-300x176.jpg

S&W Shield: http://gunsgunsguns.net/wp-content/uploads/2012/04/8-disassembled-step-4.jpg

Springfield XDS: http://gunsgunsguns.net/wp-content/uploads/2012/01/10-disassembled-passive-safety-300x181.jpg

I include the S&W 3rd non-captive but still dual spring because it is similar (secondary spring is used as a buffer): http://www.vintagepistols.com/images/4506-4.jpg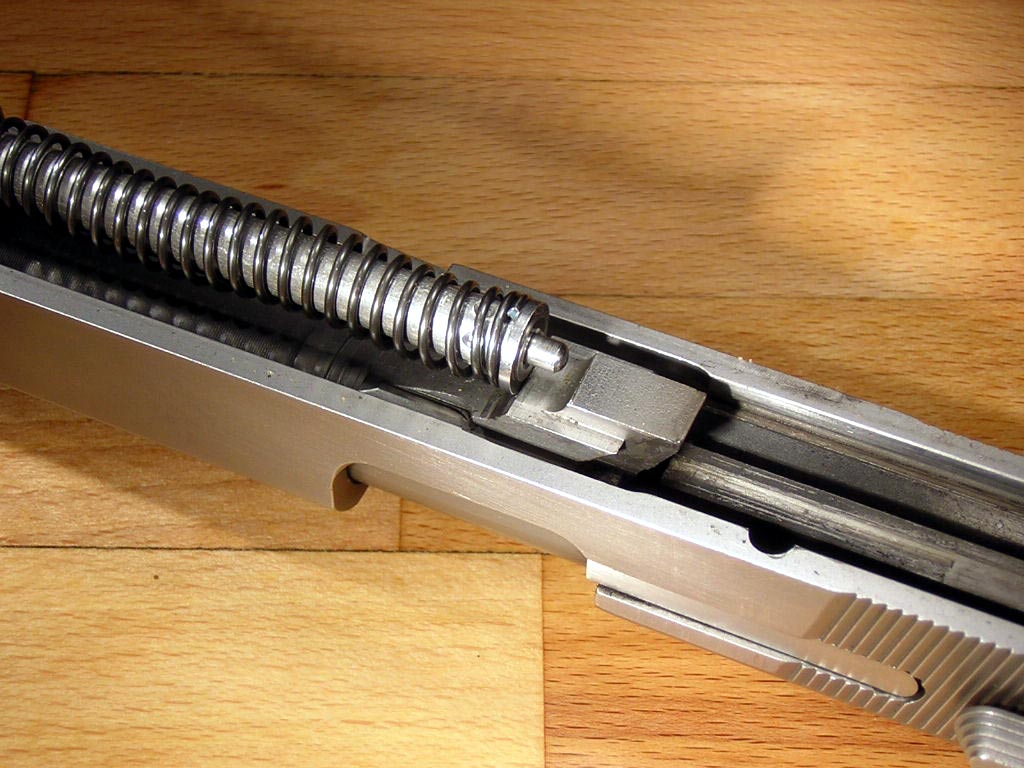 Along somewhat similar notes Colt has been using dual springs for a while. Both the Delta Elite, Officers, and Mustang use dual springs of different weights and circumference so that one fits inside the other.
Colt Delta Elite: http://www.gunblast.com/images/Colt-DeltaElite/DSC05149.JPG

Colt Mustang: http://t3.gstatic.com/images?q=tbn:ANd9GcQjUzH8knvW6eFf7seTPqfZ1VtZjAvwOKWfuwbrVjzQIZI3VZG9uA

ParaOrdnance P10: http://img.photobucket.com/albums/v323/sv1cec/reviews/POcarry9/IMG_1139.jpg

So you can see that Glock is not alone in using the SeeCamp as "inspiration." All from a design and a sub-compact pistol made over 30 years ago! Glock, AFAIK is one of the few to put them into a mass production full size pistol. One has to wonder too...the S&W M&P Compact uses a standard single spring RSA. However, the Shield as we can see uses a dual-spring. hmm..